Video lectures and seminars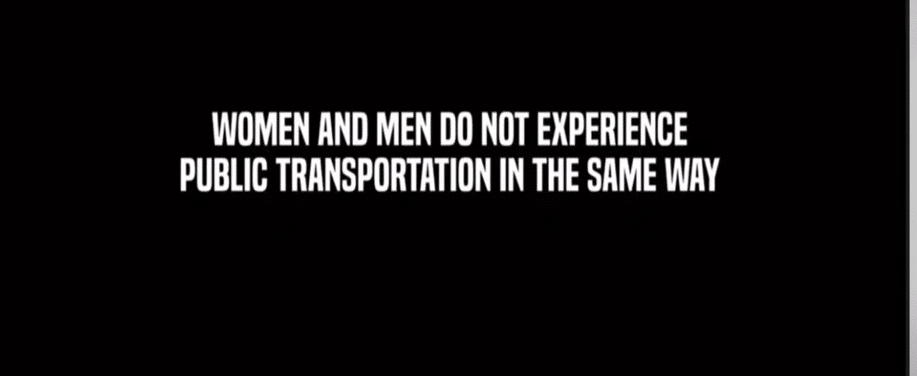 Transforming Transportation 2021: Reimagining Safe and Resilient Mobility For Recovery // Build Back Better
In the second part of this three part webinar series hosted by the world Bank and the WRI, sustainability leaders from all over the world discuss how mobility can be reinvented and built back better after the pandemic. This particular part focusses on women's needs in transport. Let's make women count!
Date and time: 04 February2021
Speakers: Anitha Bhatia, Assistant Secretary-General for Resource Management, Sustainability and Partnerships, and Deputy Executive Director, UN Women; Sinem Dedetaş, General Manager, City Lines Istanbul, Turkey; Sonal Shah, Founder, The Urban Catalysts, India; Heather Allen, Independent Gender and Transport Consultant; Nato Kurshitashvili, Gender Specialist, Transport Global Practice, World Bank; Franz Drees-Gross, Regional Infrastructure Director, World Bank.
Transport Planning and Applying the Gender Lens
In this Webinar Series by the MIT, Marina Moscoso from Despacio speaks on how transport planning is designed without the lens of intersectionality and how that effects certain groups over others.
Date and time: 26 June 2020
Speakers: Marina Moscoso
Women and mobility: Should transport be different?
This webinar in the Shaping Mobility Webinar series by PTV Group focused on identifying the need for gender-sensible mobility planning, as well as discussing approaches to inclusive mobility and its surprising effects on employment, development, and safety of communities worldwide.
Date and time: 03 December 2020, 14:00 – 15:00 CET
Speakers: Angie Palacios, Dr. Leslie Kern, Sonal Shah, Prof. Nuno Marques da Costa
Urban Mobility Days 2020: Gender perspectives in urban transport
In this parallel session during the Urban Mobility Days 2020, Gender perspectives in urban transport were discussed. Top experts present effective gender mainstreaming methods for transport planning as well as gender-sensitive smart mobility solutions.
Date and time: 30 September 2020, 14:00 – 15:00 CEST
Speakers: Heather Allen, Marianne Weinreich, Fotis Liotopoulos
TRB Webinar: How Women Fare in the Transit Industry
In the webinar hosted by the Transportation Research Board (TRB) of the National Academies of Sciences, Engineering and Medicine, solutions to including more women in the transit industry are discussed. The speakers focus on strategies to support women in transit and share best practices from transit agencies.
Date and time: 2 September 2020, 14:00 – 15:30 Eastern
Speakers: Dr Allison Alexander, Dr Jessica Jenkins, Chelsea Jackson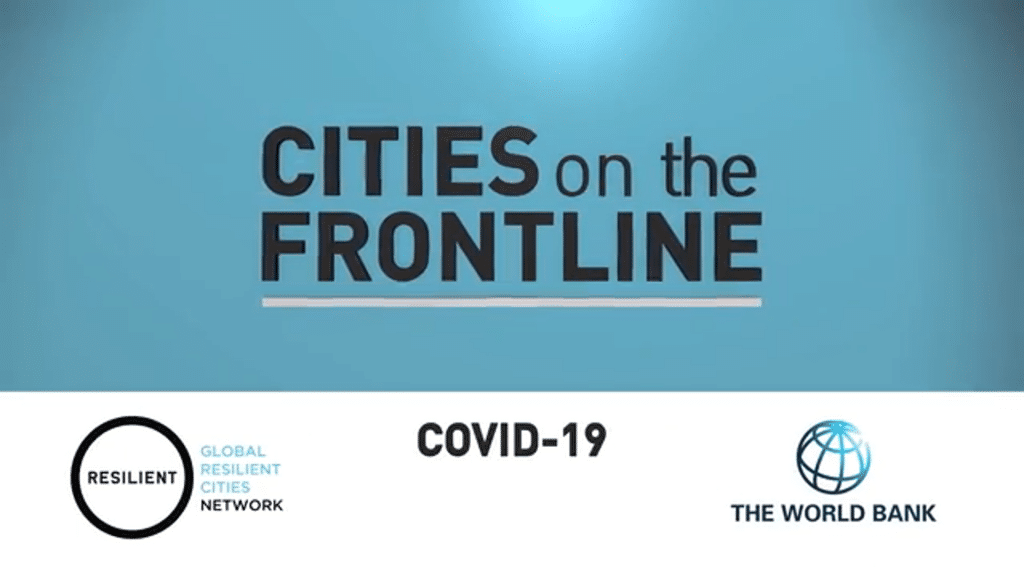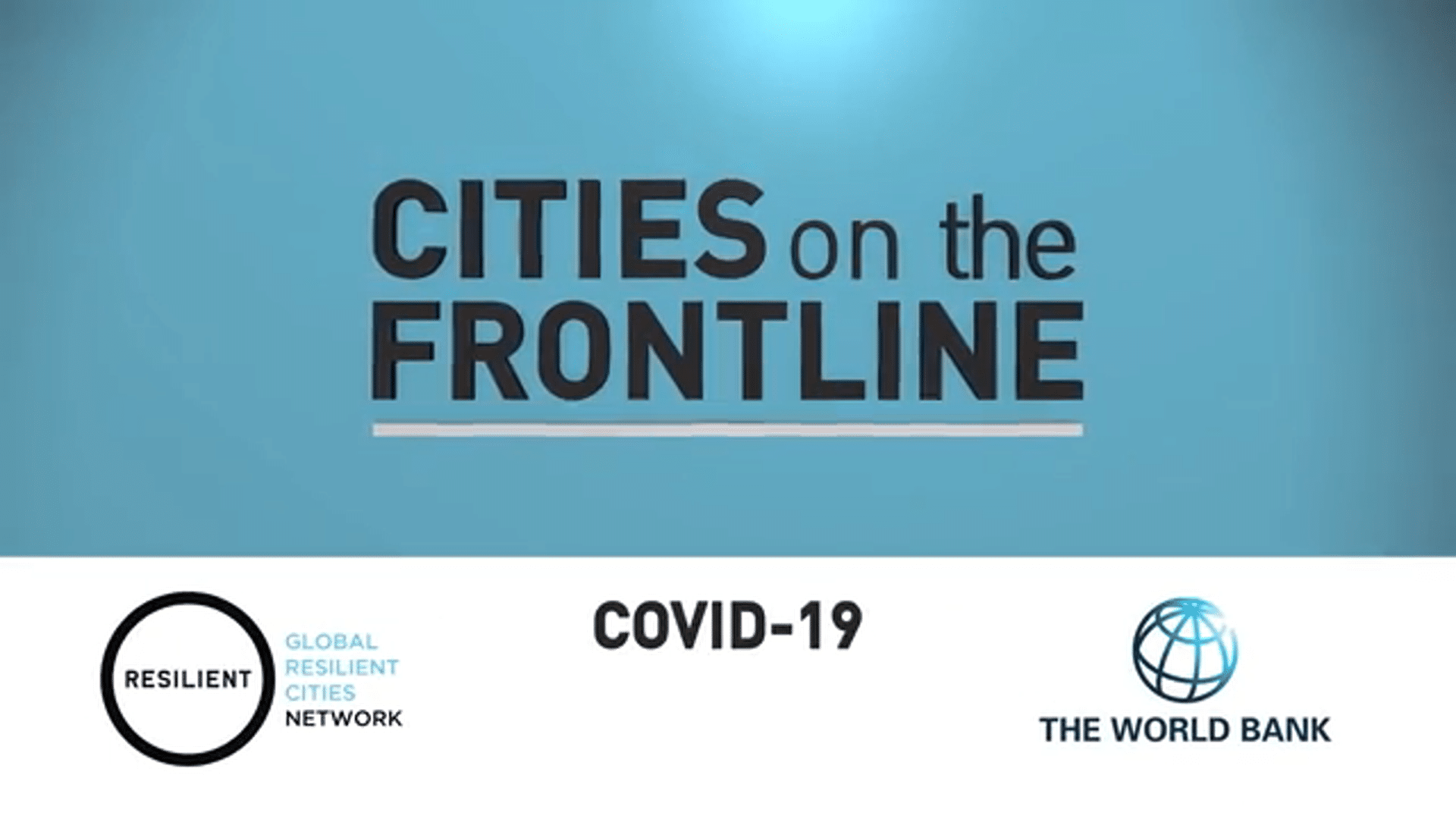 Coronavirus Speaker Series: Sharing Knowledge to Respond with Resilience
#18 Gender Inclusive Cities
The Global Resilient Cities Network, together with World Bank, hosted this webinar discussing the topic of Gender Inclusive Cities in the face of the COVID-19 pandemic.
Date: 10 July 2020
Speakers: Daniela Guarieiro, Dr. Kealoha Fox, Keani Rawlins-Fernandez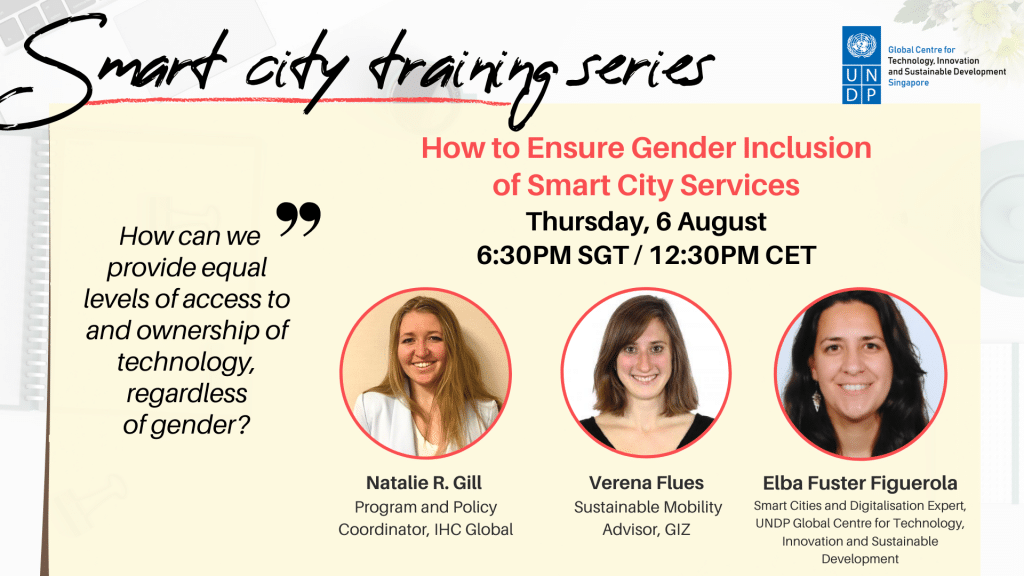 Smart City Training Series: How to Ensure Gender Inclusion for Smart City Services
The webinar by the UNDP Global Centre for Technology, Innovation and Sustainable Development focuses on how to develop gender-inclusive smart city services. The speakers discuss on which aspects need to be taken into consideration to bridge the growing gender digital divide, particularly with regards to sustainable and inclusive urban planning and transport planning.
Date and time: 6 August 2020, 12:30 PM CET
Speakers: Natalie R. Gill, Verena Flues, Elba Fuster Figuerola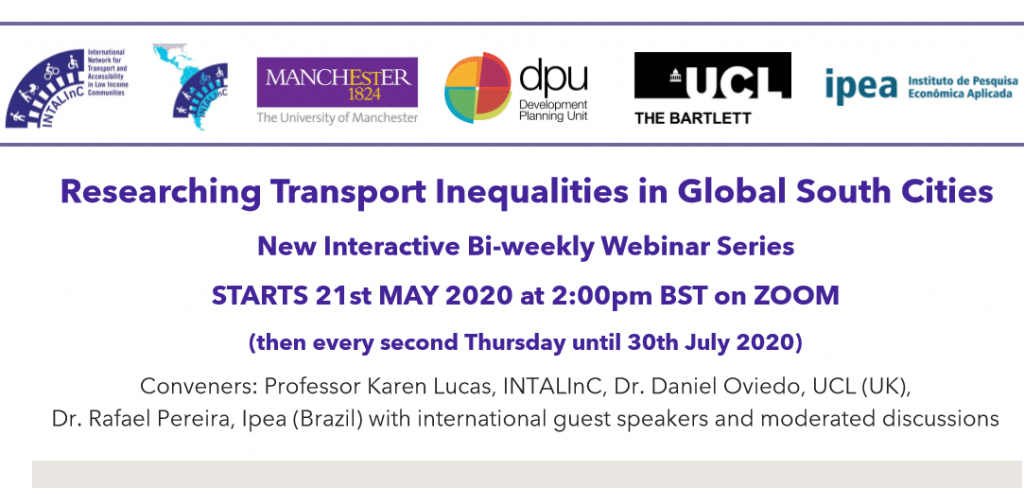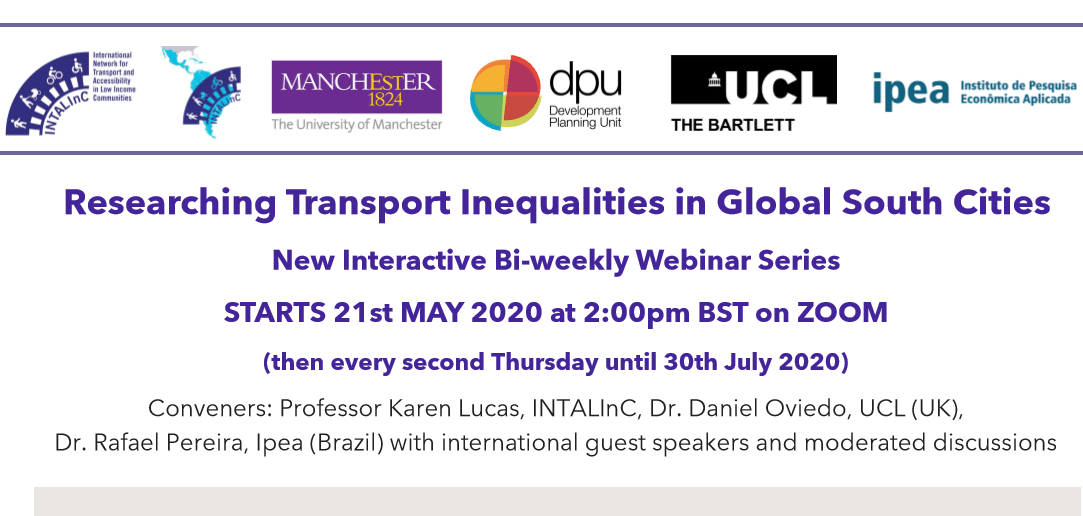 Webinar by INTALInC: Gender issues
In the webinar series hosted by INTALInc, the speakers focus on Researching Transport Inequalities in Global South Cities. In part 5 of the series, gender issues in transport are being discussed. After an introduction to the topic of women, development and transport, two case studies from Barrio San Eugenio, Santiago, and Dhaka City are being presented.
Date and time: 16 July 2020, 2:00 PM BST
Speakers: Dr. Tanu Priya Uteng, Dr. Beatriz Mella Lira, Dr. Sharmin Nasrin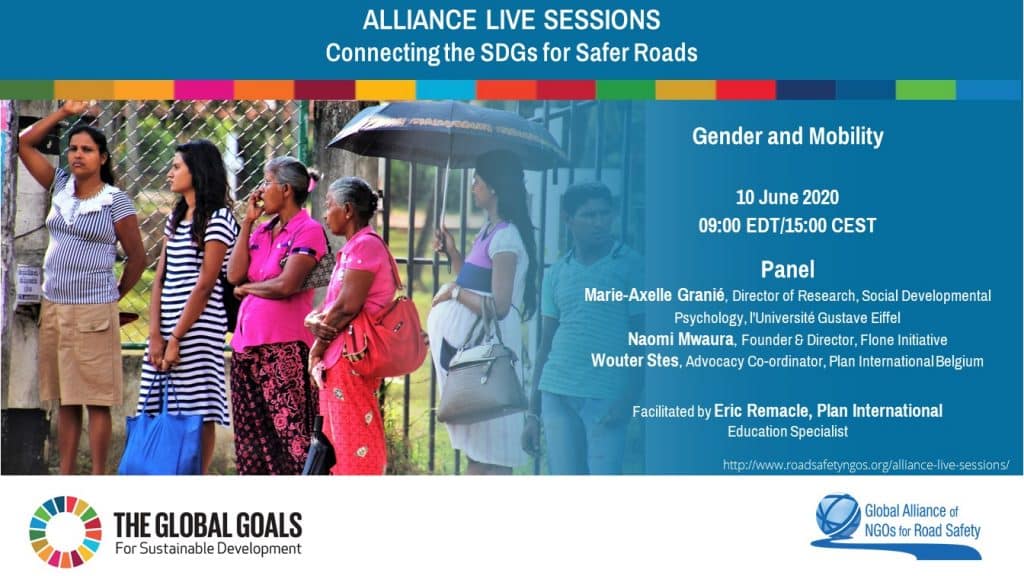 Global Alliance of NGOs for Road Safety: Live Session on Gender and Mobility
Women are more reliant on public transport, more likely to walk further, less likely to have access to drive the family car and often experience harassment on public transport systems. This has an impact on our societies, economies, and families. What can be done to address it?
Date and time: 10 June 2020, 15:00 CEST
Speakers: Marie-Axelle Granié, Naomi Mwaura, Wouter Stes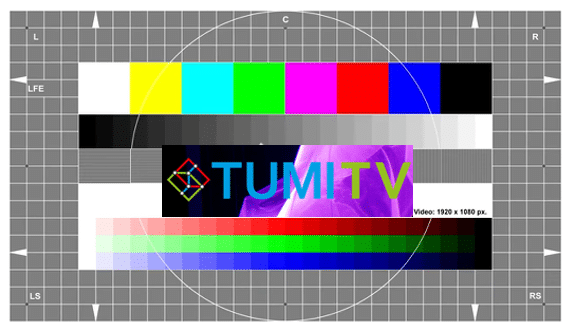 TUMI TV on COVID and transport – Part 8: Focus on Gender
On 26 May 2020, in the midst of the COVID-19 pandemic, TUMI TV was aired. Speakers from all over the world shared their views on impacts of COVID-19 on transport and recommendations for a green recovery. Part 8 of the program focused on the topic of gender and transport in the face of the pandemic.
Gender Panel with Naomi Mwaura, Sonal Shah and Angie Palacios
Interviews with Sheila Watson and Andrea Maria Navarrete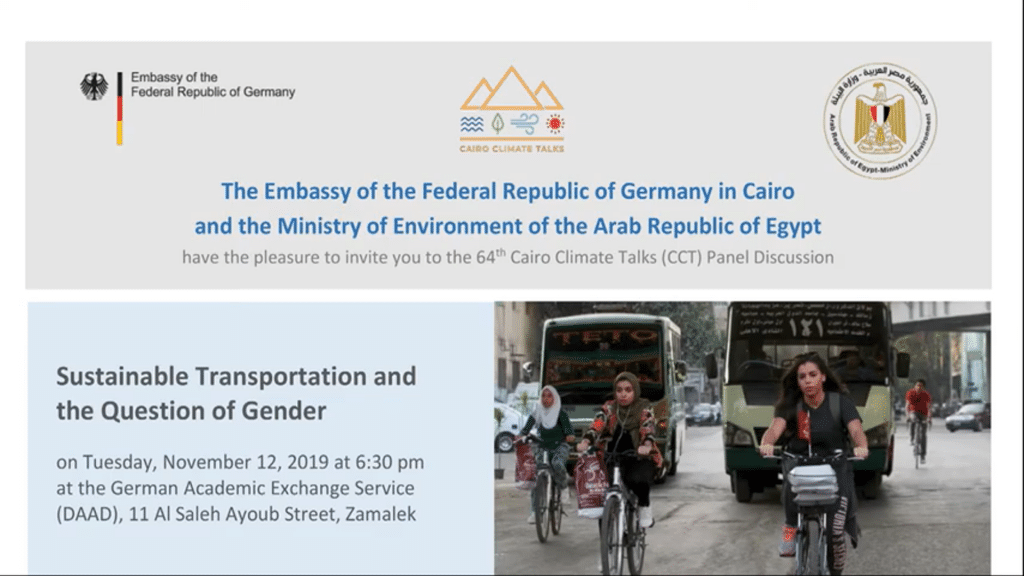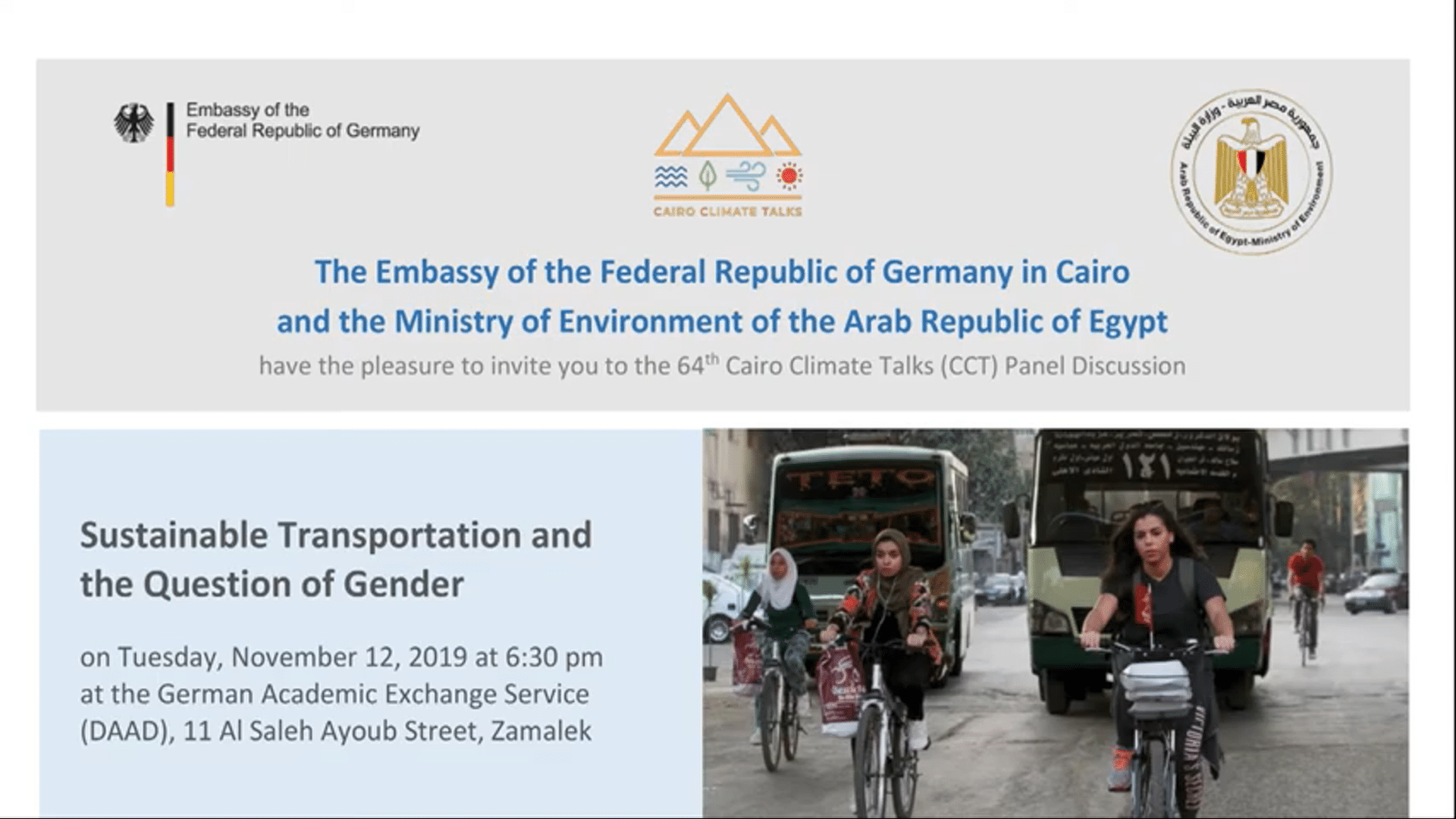 64th CCT on Sustainable Transportation and the Question of Gender
The intersectional discussion by Cairo Climate Talks focuses on sustainable transportation and the question of gender. Various social considerations are essential to ensure the successful holistic approach to sustainable transportation, one of them being the considerations of gender related issues. Studies show that although the role women in society is rapidly changing, transportation policies around the world are slow to catch up. Women are generally more frequent users of public transportation.
Date: 12 November 2019
Speakers: Dr. Ahmed ElDorghamy, Ms. Sohair Mourad, Dr. Hany Abo El Wafa, Ms. Nouran Salah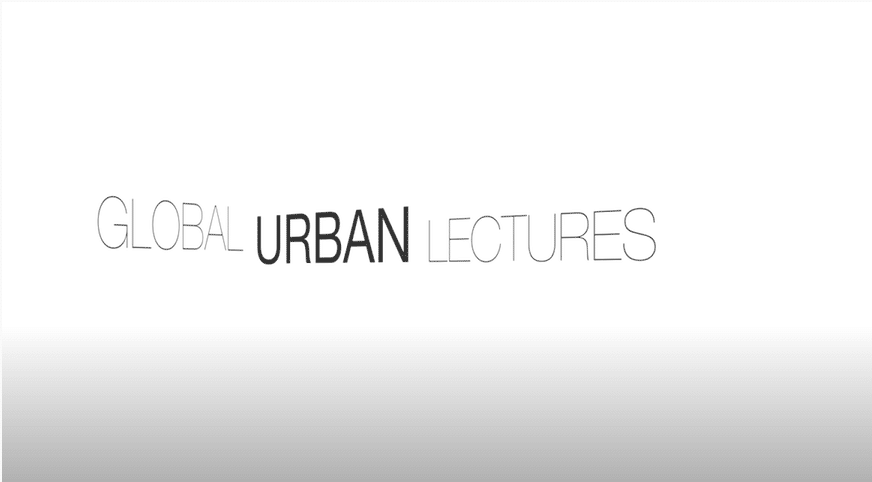 Global Urban Lectures: Gender perspectives in urban planning
This episode of the Global Urban Lectures by UNI (UN-Habitat's partnership with universities worldwide) focuses on gender perspectives in urban planning. Amongst other aspects, this also includes women's demands regarding accessibility and mobility.
Date: 4 October 2016
Lecturer: Ana Falú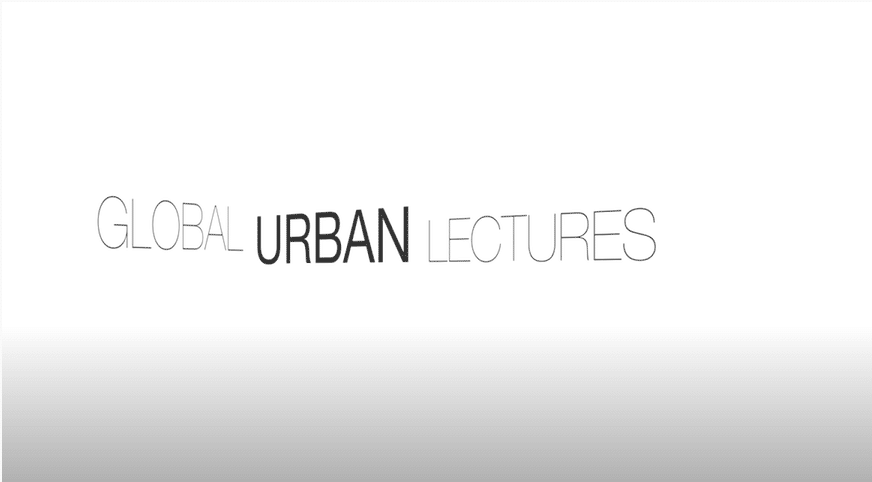 Global Urban Lectures: The Mobility of Care
In this episode of the Global Urban Lectures by UNI (UN-Habitat's partnership with universities worldwide) the concept of mobility of care is introduced and gender-aware concepts in transportation planning is being presented. The aim is to help understand travel patterns of women and men, by taking into account the travel implications of daily tasks performed by individuals with care responsibilities.
Date: 2 October 2018
Lecturer: Ines Sanchez de Madariaga
Webinar Series Gender & Transport by Mujeres en Movimiento
The webinar series (in Spanish language) discusses a broad field of topics related to gender and mobility, with a focus on the Latin American region.
Episodes:
1 – Gender and Transport in Latin America – an introduction
2 – Mobility patterns from a gender perspective
3 – Women and urban cycling
4 – Mobility planning from a gender perspective
5 – Security audits – examples and scope
6 – Participation of women in the sector – overcoming barriers
7 – Combatting sexual harassment in public transport
8 – Mobility of care in times of COVID-19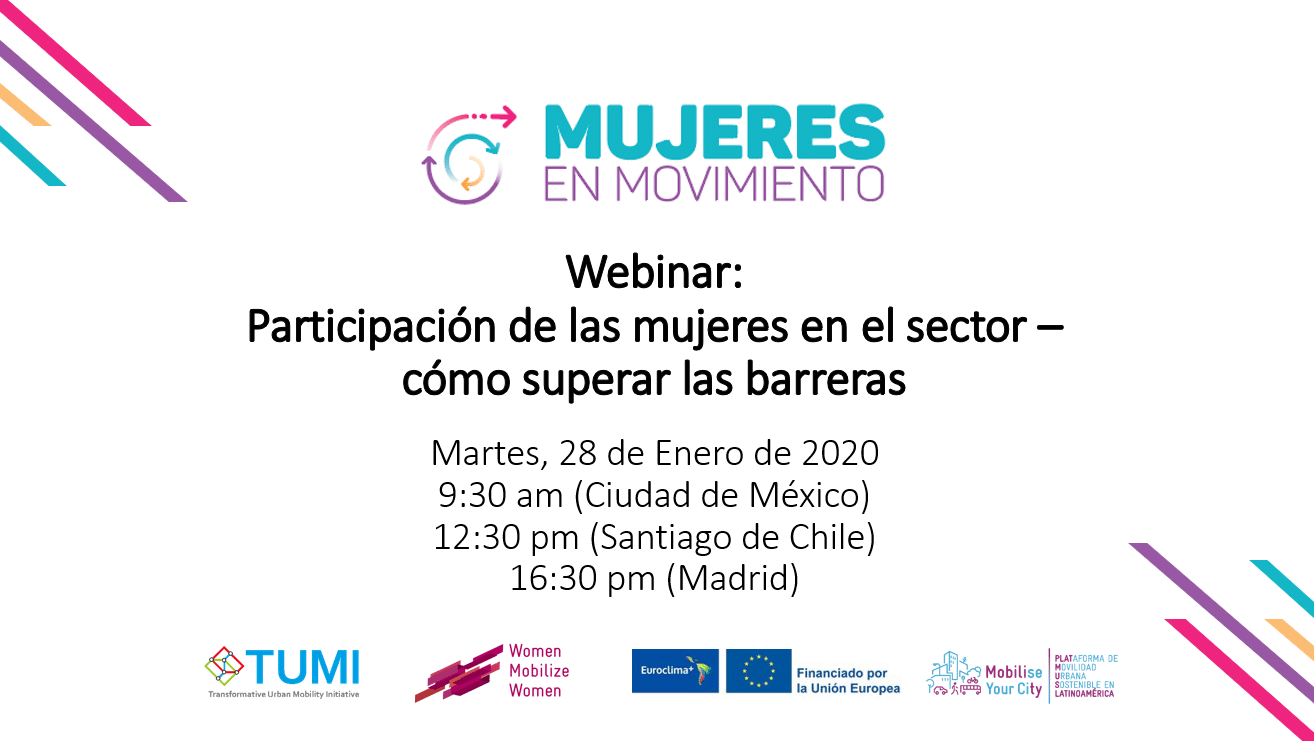 Become Part and Design with us a new Movement!
Are you a transport woman expert who mobilizes or are you interested to join us in mobilizing women in transport? Design with us the Women Mobilize Movement and get in contact with us to mobilize women together!