First Conference to Empower Women in Transport
The Transformative Urban Mobility Initiative (TUMI) has kicked-off a debate on the role and potential of women in sustainable urban mobility. Join the movement to empower women in the transport sector and change mobility systems to cater to women's needs.
Program
The conference fostered knowledge exchange and in-depth discussions on female empowerment focused on the implementation of sustainable mobility solutions on the ground – by women, for women.
Inspirational talks on female empowerment in the transport sector, background stories on experiences of women specifically in developing and emerging economies and an interactive dialogue session provided the basis for in-depth discussions and networking.
The conference actively involved female change makers from all over the world: all speakers and at least two-thirds of participants will be women.
Dr. Tania Rödiger-Vorwerk, Dep. Director General at Directorate 31 – Environment and Infrastructure, German Federal Ministry for Economic Cooperation and Development and other female transport leaders highlight the need to mobilize women in transport
Full Video of the Conference
Here you find the whole Conference divided in three parts as well as a brief video of the day in 90 seconds. For further videos of the conference click here.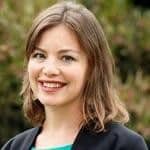 Anne Julie Genter
Minister for Women,
Associate Minister for Transport,  Associate Minister for Health, New Zealand
Julie Anne grew up in Los Angeles where she witnessed women's and civil rights movements making huge strides for people. In the famously car-dependent city she also saw the profound impact that transport and urban design have on our quality of life.
 She graduated from UC Berkeley with a BA and studied Politics at the prestigious Sciences Po Paris, before moving to New Zealand as a scholar at the University of Auckland. In Auckland she gained a Masters of Planning Practice with First Class Honours.
She went on to work as a transport consultant at some of New Zealand's leading firms, working in transport economics and urban design. Julie Anne worked in predominately male working environments, sometimes where she would be the only woman in the room. She is passionate about addressing the barriers that women face in working in these environments, as well as addressing the gender pay gap.
Julie Anne can see the connections between her portfolios and keen to promote the links between Women, Associate Health, and Associate Transport. For example, making it safer for people to walk and cycle helps improve everyone's health.
Julie Anne Genter
Minister for Women, Associate Minister for Transport, Associate Minister for Health, New Zealand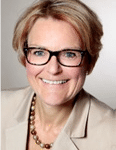 Dr. Tania Rödiger-Vorwerk
Dep. Director General at Directorate 31 – Environment and Infrastructure, German Federal Ministry for Economic Cooperation and Development (BMZ)
Dr. Tania Rödiger-Vorwerk has served in multiple positions for the German Federal Ministry for Economic Cooperation and Development. Currently she is Deputy Director General at Directorate 31 – Environment and Infrastructure. She has led bilateral development policy and cooperation with South Asia, crisis prevention and peace building, human resource development and has served as Director Strategy and Planning. Prior to her work at the ministry, she was Deputy Head of the Department of International Affairs and Protocol of the City of Bonn and strongly involved in the change management and the United Nations settlement after the reunification.
Dr. Tania Rödiger-Vorwerk
Dep. Director General, German Federal Ministry for Economic Cooperation and Development
Robin Chase
Thought leader
Co-founder of ZipCar
Robin Chase is a transportation entrepreneur. She is the co-founder and former CEO of Zipcar, the largest car sharing company in the world, as well as co-founder of Veniam, a vehicle network communications company. After graduating from the MIT Sloan School of Management, she was a board member in various transportation organizations and networks, currently at the WOrld Resources Institute. She is the author of the book "Peers Inc: How People and Platforms are Inventing the Collaborative Economy and Reinventing Capitalism".
Robin Chase
Thought leader, Co-founder of ZipCar
Laura Ballesteros
Deputy Senator
Former Sub-Minister of Planning, Ministry of Mobility, Mexico City
An activist and expert in public policy and regulation, Laura Ballesteros is a political scientist graduated from the Tecnológico of Monterrey. She possesses a Masters Degree in Strategic Guidance and Innovation Management from the Autonomous University of Barcelona and the Carlos III University of Madrid.
As a local deputy in the Legislative Assembly of Mexico City, Laura Ballesteros spearheaded the enactment of the Mobility Law (Ley de Movilidad) in coordination with civil society organizations and the Head of Government, Miguel Angel Mancera. The Law recognized mobility as a right, gave priority to the most vulnerable road users and led to the administrative reform of the Mobility Secretariat and the cross-sectional coordination of governmental agencies. Additionally, she played a central role in the regulation of network-transportation companies (such as Uber and Cabify). Such regulatory measures in Mexico City were the first of their kind in Latin America.
Laura Ballesteros worked also as Sub-Secretary of Planning in the Mobility Secretariat of Ciudad de Mexico, from which she implemented the Mobility Law with a focus on active mobility, road safety and integrated transport systems. Her first activity in her role as Undersecretary was the introduction of the "Visión Cero" as a road safety policy facilitated by the newly enacted Regulation of Transit and the Integral Programme of Road Safety. These activities have led to a 18% reduction of traffic-related deaths. The ultimate objective is to achieve a reduction of 35% by 2018.
Laura Ballesteros
Urban Mobility Leader, Former Sub-Minister of Mobility,
Mexico City
Natasha Zulkifli
Executive Vice President at Prasarana Malaysia Berhad
Natasha is Executive Vice President at Prasarana Malaysia Berhad in charge of driving the Rapid Transit System (RTS) Project, a joint venture project between Malaysia and Singapore to operate a cross-border metro line between Johor Bahru in Malaysia and Woodlands in Singapore. Prasarana currently operates 4 urban rail lines, is constructing a new 37km-long metro line, provides bus and BRT services in 4 Malaysian cities as well as operates ferry services in Penang, Malaysia. For the last 3 years Prasarana has also operated the Makkah Al-Mashaer line providing metro services to pilgrims during the Hajj season. 
In 2017 Natasha founded Women in Rail Malaysia, a not-for-profit entity which promotes equality and diversity for women in the Malaysian rail industry. She is passionate about driving Women in Rail Malaysia for the benefit of women currently working within the industry and to also promote the Malaysian rail space as a career of choice to young women. 
Prior to joining Prasarana, Natasha served for three years as Special Officer to the Chief Executive Officer at Malaysia's Land Public Transport Commission (SPAD). SPAD is responsible for regulating, streamlining policies, central planning and enforcement of all land public transportation matters. 
Natasha also has experience in the not-for-profit space, having run Malaysia-Europe Forum (MEF), for three years as its Executive Director. The MEF was set up to improve relations and bilateral understanding between Malaysia and Europe in areas relating to business and trade. Under Natasha's leadership, the MEF successfully launched an international internship programme and carried out roundtables, conferences and dialogues in Kuala Lumpur, London, Brussels, Vienna, Munich, Paris and Madrid. 
In the past, Natasha sat as Malaysia's representative on the Asia Low Emission Development Strategies (LEDS) Partnership Steering Committee, which is a voluntary regional network set up to support and promote low-emission development across Asia and the Pacific region. Since 2015 she has represented Malaysia on the Business Women's Working Group within the ASEAN Business Advisory Council (ABAC). 
Natasha has studied in Kuala Lumpur, New Zealand and London, having obtained a law degree from the London School of Economics (LSE), with a special focus on European Union and international law. She lives in Kuala Lumpur and is married with 2 children: Laura and Aidan. 
Natasha Zulkifli
Executive Vice President at Prasarana Malaysia Berhad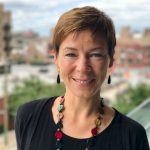 Kristina Jasiunaite
World Bicycle Relief
Kristina Jasiunaite has joined the international NGO World Bicycle Relief in 2013. In her position as Europe Director is responsible for Fund Development and Corporate Partnerships for World Bicycle Relief in Europe. World Bicycle Relief builds specially-designed, locally assembled, rugged bicycles to provide a sustainable solution to the lack of mobility and long distances in rural development regions. To date, World Bicycle Relief has delivered over 390,000 bicycles. The bicycles are distributed to students, healthcare workers and entrepreneurs where the need is greatest. For increased sustainability, the organization also trains field mechanics to ensure access to maintenance and spare parts.
Before Kristina started setting up World Bicycle Relief's efforts in Germany and Europe, she worked in the bicycle industry in the Netherlands, Germany and Austria for more than 14 years. Already in these years she dedicated herself to the idea that bicycles are a powerful and simple vehicle that can change the world.
"Mobility is key for development – the bicycle is the most simple and sustainable solution to mobilize people and empower them to create access to education, health care and economic development."
For more information, please visit: www.worldbicyclerelief.org/ Follow us @PowerOfBicycles and Like us at facebook.com/worldbicyclerelief
Kristina Jasiunaite
World Bicycle Relief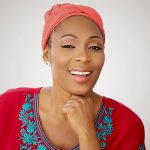 Kimberly Toure
Inspirational manager, Founder of the Liberian Female Construction Contractors Group
"Where is a will, there is a way. We have the will to build the roads. The way is to strengthen the private sector of Liberian construction companies. Road construction and road maintenance are fundamental to connect communities. In Liberia the roads are mostly in bad condition. This has a negative impact to the economic growth, access to education, health institutions, and harmonized regional development."
This is Kimberly Toure's vision on how  to improve Liberia's transport infrastructure. Since eight years Kim is running a construction company as an entrepreneur. She is the first female representative in the management team of the Association of Liberian Construction Contractors as National Treasurer, and has mobilized the female contractors to build a Female Construction Contractors group/network. After graduation from University of Liberia, she worked as executive manager in the Liberian leading Oil & Gas Cooperation. Currently she is the owner and president/CEO of the Development & Construction Company Tumarsi Inc.
Kimberly Toure
Inspirational manager, Founder of the Liberian Female Construction Contractor Group
Shreya Gadepalli
South Asia Programme Lead, Institute for Transportation and Development Policy (ITDP)
Shreya Gadepalli leads the India & South Asia Programme of the Institute for Transportation and Development Policy (ITDP), a global non-profit organisation that works worldwide to design and implement high quality transport systems and policy solutions that make our cities more sustainable, equitable, and enjoyable. Her work since the late 90s has established her as one of the foremost experts on sustainable urban mobility. In a region where nine out of ten trips by women are made on foot or public transport — often in uncomfortable and unsafe conditions — Shreya and her team engage with public agencies and others groups to ensure that these modes become safer and better. She also walks the talk — buses and walking are her primary modes of transport.
As a woman leader in the field, she has also ensured that her organisation provides the space for young women to learn, grow, and shine. Often, she and her teammates are the only women on the table in a severely male-dominated sector. Their motto: a city that is good to its women, its children, and its elderly, is a city that is good for all. Over the last two decades, she has guided dozens of cities in the design and implementation of high-quality urban bus systems and complete streets for all.
Planning of inclusive transit-oriented cities and regulation of personal motor vehicle use are her other areas of expertise. Today, she leads a young and committed team to achieve tangible transformation at scale in cities across the region — inspiring urban leaders to take action, providing in-depth technical support in creating inclusive urban transport and urban planning best practices, helping embed these best practices into policies and standards, and expanding capacity of public officials and practitioners.
Shreya Gadepalli
India & South Asia Programme Leader, Institute for Transportation and Development Policy (ITDP)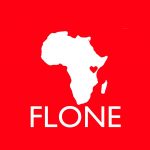 Flone Initiative
Kenya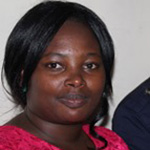 Mary Mwangi & Susan Goodwillie
Flone Initiative is a women-led charitable trust in Kenya whose goal is to create a safer and equitable public transportation system for women and girls, through community sensitization on sexual harassment, mapping sexual harassment and violence incidences in public spaces, training of public transport operators, and supporting women working in the public transportation industry. In November 2014, Flone Initiative was among the lead organizers of the #MyDressMyChoice protest campaign that highlighted the sexual violence inflicted on women in the Kenyan public transport industry. Since then, Flone Initiative has trained over 500 public service vehicle operators in hot spot regions across the country on prevention of sexual violence and customer service. Flone Initiative has also conducted research on the prevalence of sexual harassment in the public transportation sector of Kenya.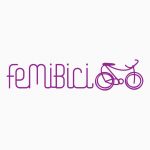 Femibici
Guadalajara, Mexico
Femibici is a group of cycling feminist activists formed in Guadalajara, Mexico in 2010, aimed at building community in public urban spaces through the power of the bicycle as a tool for freedom, visibilization and feminist resistance. It began with a women centered monthly bike ride to counteract the small percentage of women participating in urban cycling activism and using the bicycle as their mode of transport, but it has become a space to work through women's challenges, in general, and transport needs, in particular.
In addition to organizing rides and women's cycling school among other activities, Femibici participates in collaborative efforts along with other groups and organizations: one is the National Urban Cycling Network (Bicired), which is oriented towards public policies to improve urban cycling conditions throughout the country. Another one is the feminist network I Am for March 8 (#YoVoy8deMarzo), which focuses on women's mobilization and direct action in Guadalajara. These two endeavours are examples of our different strategies for social transformation.
Femibici
Guadalajara, Mexico
WhereIsMyTransport
Director of Operations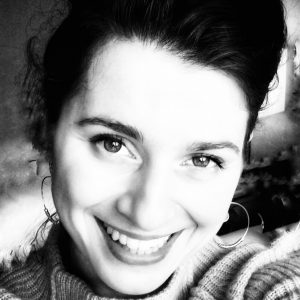 Aida Shehi
WhereIsMyTransport collects and digitalises mobility data in the field – with a primary focus on representing and advocating for informal public transport in emerging cities. Through its integrated mobility data platform, the company is helping international organisations and Africa's largest cities to make better investments and better decisions, so that everyone everywhere can get where they want to go. By turning mobility data into useful information, the WhereIsMyTransport platform empowers local developers and academics to build digital solutions to improve public transport in their city. WhereIsMyTransport hosts Hackathon events in emerging cities such as Cape Town, Nairobi and Kampala, where female-led teams develop applications to solve gender-based challenges in mobility, accessibility and commuter safety.
WhereIsMyTransport
Aida Shehi, Director of Operations
Become Part and Design with us a new Movement!
Are you a transport woman expert who mobilizes or are you interested to join us in mobilizing women in transport? Design with us the Women Mobilize Movement and get in contact with us to mobilize women together!